Choosing the Right Band Size: Three-Piece to Nine-Piece Band with DJ
The Electro Swing Band offers a versatile range of options when it comes to choosing the right band size; from a dynamic three-piece ensemble to a vibrant nine-piece outfit featuring a DJ and dancers.
To ensure a consistent, high-energy performance, any non-live instruments are seamlessly integrated as live Electro Swing Samples by our skilled percussionist. This means that the band delivers the same captivating sound as showcased in our demos, regardless of the band's size.
Get ready to ignite the dance floor and delight guests of all ages with an irresistible party atmosphere.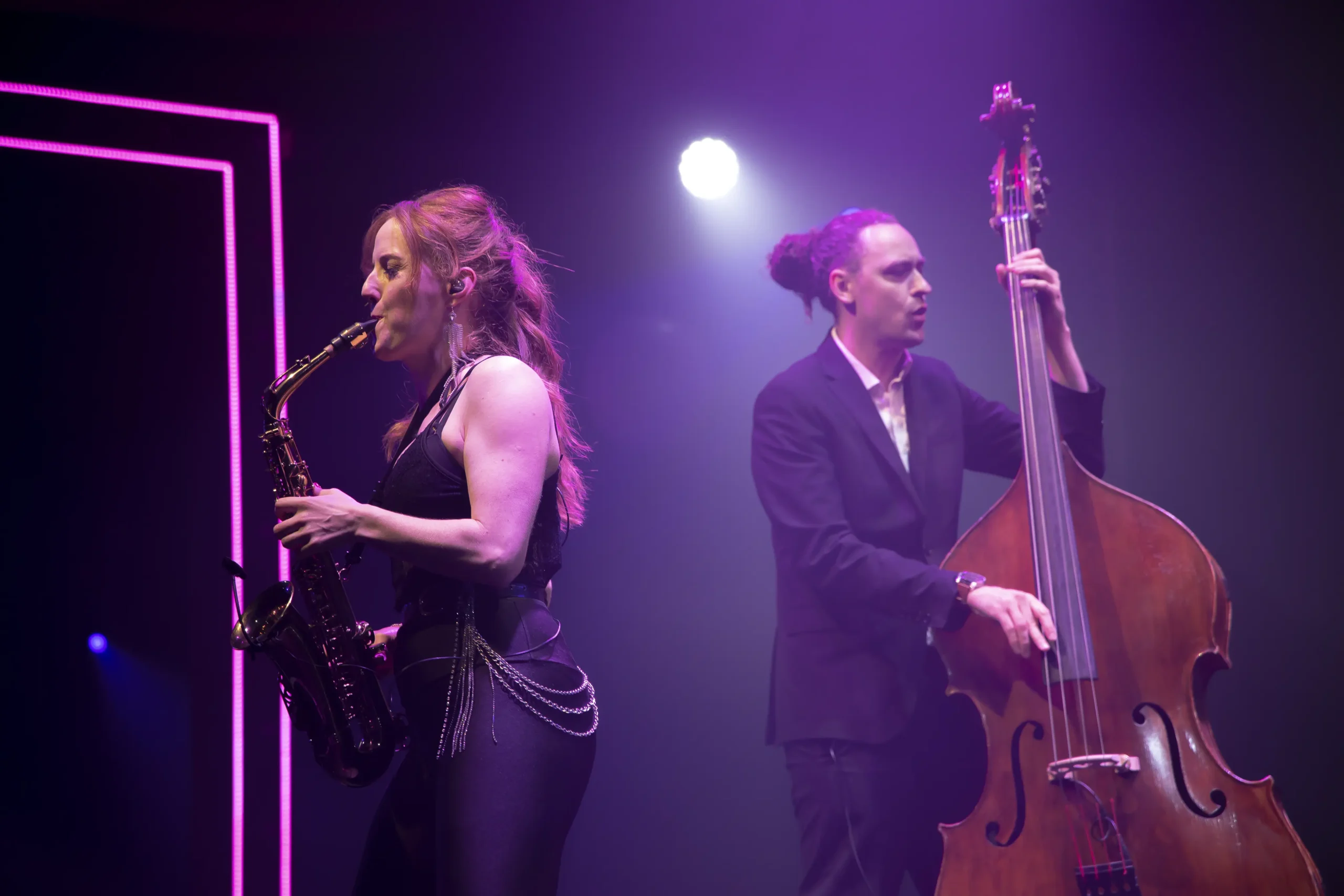 Male or Female Singer, Saxophone, Percussion
A lineup offering a distinctive and entertaining experience. They not only captivate your guests on the dance floor but also deliver an engaging stage performance.
Our percussionist skilfully triggers live electro swing samples from their drum pad, ensuring you enjoy the complete, immersive sound of the band, irrespective of the lineup size.
This act is ideal for intimate venues, yacht parties, and exclusive private gatherings, bringing a fantastic musical experience tailored to your event's unique ambiance.
Male and Female Singer, Saxophone, Percussion
The Electro Swing Project strongly recommends considering both a male and female singer for the four-piece ensemble. The dynamic interplay between two vocalists adds a lively and entertaining dimension to your event, creating a memorable experience for your guests. 
However, for those who have a special affinity for the double bass, you have the option to choose this instrument and omit one of the singers, tailoring the ensemble to your specific musical preferences.
Male and Female Singer, Saxophone, Percussion, Tap Dancer / Bass or DJ
Select your top five members from the talented Electro Swing Project to elevate your night of celebration and keep the party spirit alive. Our tap dancer adds an exciting and distinctive element to the mix, perfect for those seeking to dazzle their guests with a touch of uniqueness.
For an even greater impact and a definite "wow" factor, consider featuring the tap dancer on a central podium within your spacious dance floor area. This arrangement promises a high-impact performance that will leave your guests thoroughly impressed and entertained.
For those seeking a truly spectacular experience, our top recommendation is the complete nine-piece showband. You also have the exciting option to enhance the event's thematic flair by including talented dancers and captivating circus acts.
With the nine-piece band, it's crucial not to overlook the importance of staging, sound, and lighting, as these elements collectively contribute to crafting the ultimate electro swing extravaganza. These components work in harmony to elevate your event into an unforgettable electro swing experience.
Electro Swing DJ – Added Extras
The Electro Swing Project is an exceptional live act that combines the talents of a DJ and a Tap Dancer, making for a truly distinctive performance. If you're seeking top-tier entertainment with a touch of uniqueness, the DJ and Tap Dancer are absolute must-haves for your event!
Our skilled DJ will expertly blend and infuse loops throughout the set, delivering the epitome of the Electro Swing experience, ensuring your event stands out and leaves a lasting impression.
If you haven't been able to find the perfect band from our list above you might like to create and select your own instruments.
The Essentials – One Singer, Percussion, Saxophone
Then add: Additional Singers / Guitar / Bass / DJ / Tap Dancer / Additional Brass Instruments: Trumpet, Tenor / Saxophone, Alto Saxophone / Electric Violin
Ready to Hire the Electro Swing Project?
Get in touch now to discuss how we can assist with making your party one to remember.